Cargazing
By Derek Price
The Toyota RAV4 was an early pioneer in crossover vehicles in the 1990s, helping spawn a segment that has exploded to become today's most popular form of family-friendly transportation.
If the RAV4's basic mission was to cross-breed the versatility of SUVs with the efficiency and polite driving manners of cars, this year it's finally reaching its logical conclusion with the RAV4 Hybrid.
In fact, I'm surprised it's taken Toyota this long to create a hybrid-powered version of the RAV4, given how perfectly a gas-electric powertrain dovetails with its purpose. From the very beginning, efficiency was its raison d'être.
In any case, the 2016 RAV4 Hybrid has arrived as Toyota's eighth hybrid vehicle in the lineup for 2016, making it both the most powerful and the most miserly of RAV4 offerings.
With a starting price around $28,000, it costs roughly $4,000 more than the base RAV4 but also comes with more content to justify it. It sends power to all four wheels and is only available in the upscale XLE and Limited trim grades.
And that all-wheel-drive traction is important because it shows just how dramatically the hybrid system improves fuel economy in city driving. The RAV4 Hybrid is rated for 34 mpg in the city and 31 on the highway, compared to the less-than-impressive 22 city rating for the ordinary AWD RAV4.
If you can't be bothered to do second-grade math, that's a whopping 12 mpg difference, something that could make a noticeable impact to the pocketbook of a family that does a lot of around-town driving.
On the highway, where the electric motors don't provide as much help, the improvement is just 2 mpg, according to FuelEconomy.gov.
In addition to the new hybrid drivetrain, it gets the same upgrades as other RAV4s for 2016, including new front-end styling that makes it look more like a truck and a rear end that looks more sophisticated.
Inside, there's a new instrument cluster and more soft-touch materials on the doors and the dash. It's a nice upgrade but still not the top fit and finish in its class, in my opinion, lacking the solidity and precision of Toyota's best work.
Its polished hybrid drivetrain, though, whoops most of the competition.
For example, when you press the gas pedal, most hybrids start out under electric power before the gasoline engine starts up. In less refined hybrids, you can hear and feel the engine fire up after you're rolling. It's very obvious.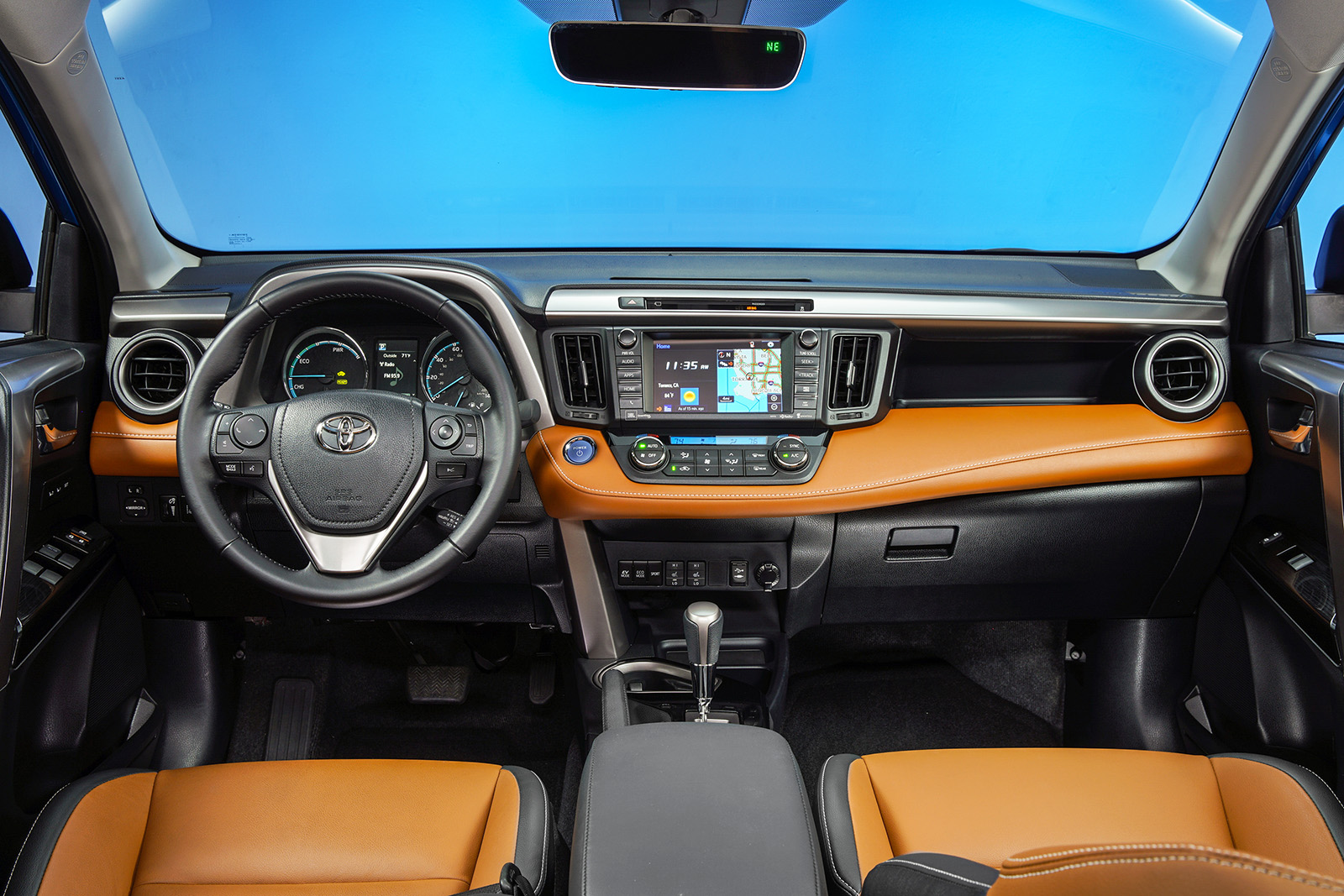 In the RAV4 Hybrid, I could hardly tell when the gas engine kicked in. It was extremely subtle and almost imperceptible unless I stomped hard on the gas pedal.
Another example: Hybrid cars use what they call "regenerative braking" to charge the batteries every time you press the brakes. In the less refined hybrids, the brakes seem funky and jerky as you can feel them grabbing in an odd, uneven way. But in the RAV4 Hybrid, the braking was so nicely refined that it didn't feel all that different from a normal car.
It's still noticeable, just not as awkward as some of the other hybrids I've driven lately.
In typical Toyota fashion, the interior is very roomy and functional, chock full of perfectly positioned cup holders and storage bins for keeping things tidy. It's a good space for Type-A personalities.
At a Glance
What was tested?
2016 Toyota RAV4 Hybrid XLE ($28,370). Options: Entune premium audio with navigation ($525). Price as tested (including $900 destination charge): $29,795
Wheelbase: 104.7 in.
Length: 181.1 in.
Width: 72.6 in.
Height: 65.9 in.
Powertrain: 2.5-liter gasoline engine with electric motor (194 total system horsepower)
Transmission: Electronic CVT
Fuel economy: 34 city, 31 highway
RATINGS
Style: 8
Performance: 6
Price: 7
Handling: 5
Ride: 7
Comfort: 8
Quality: 7
Overall: 8
Video Review:
2016 Toyota RAV4 Hybrid
bit.ly/16rav4
Why buy it?
A new hybrid drivetrain offers a major boost in city fuel economy. Its spacious, well-designed cabin and upgraded styling keep it competitive in this year's hottest automotive segment.